Hello there, there is a piece of good news for all the graduation completed or the same students who are so much willing to sit for the 43rd BCS exam. Already BPSC(Bangladesh Public Service Commission) has published the BCS circular.  BCS is the most desirable exam for most students. There are lots of high demandable jobs in Bangladesh. BCS(Bangladesh Civil Service) is one of them. At present, the students are too much attractive for BCS. Lots of students who have already completed graduation have eligibility for the exam. The 43rd BCS Circular application starts on 30 November 2020 and you can apply till 31 January 2021. The total vacant seat of 43rd BCS is 2166.
43rd BCS Exam Circular And Online Application Process Via Images
BCS is the highest-ranked earning exam in Bangladesh. This 43rd BCS exam circular has been published by BPSC (Bangladesh Public Service Commission) on 30/11/2020. It's a regular type of BCS exam that occurs every year by BPSC.  BCS cadres are first-class officers in Bangladesh. This 43rd BCS is not only an exam, but it's also a dream for many of you. The students work hard all year long for the exam. So we provided the official 43rd Exam Circular. Now it's time to come to your dream to succeed. So don't be a delay, just read the whole article to get all the information about the most desirable exam BCS. Here is a simple image for 43rd BCS.
43rd BCS Exam Online Application Process
It is the most important question to all the BCS applicants that what is the 43rd BCS exam online application process? This is why I have given here a detailed process that will help the students a lot to the way of application. There is a process, and you have to follow to apply in BCS. We will provide the 43rd BCS exam online application process in the following.
At first, you have to visit the Teletalk Official link http://bpsc.teletalk.com.bd or visit www.bpsc.govt.bd 
Then you will get a form. There will be appeared all the detailed instructions & certain form BPSC Form-1. There are 3 types of categories as the applicants' wishes. You have to choose anyone from the three options below.
Application Form For General Cadre
Application Form for Technical/Professional Cadre
Application Form for General & Technical/Professional (Both) Cadre
There are 3 parts of the form. Part one is 1. Personal  Information 2. Educational Qualification and 3. Cader Option. You have to fill-up the form by following all the instructions related to the BCS form fillup. Now you have to decide which option you are going to select. If you want to apply for General Cadre then click there on the left and mark it. Or if you wanna apply for Technical/Professional Cadre then click on it or if you wanna apply for both of them, you also have that option. After clicking there click on the Apply button. For more information focus on the below image.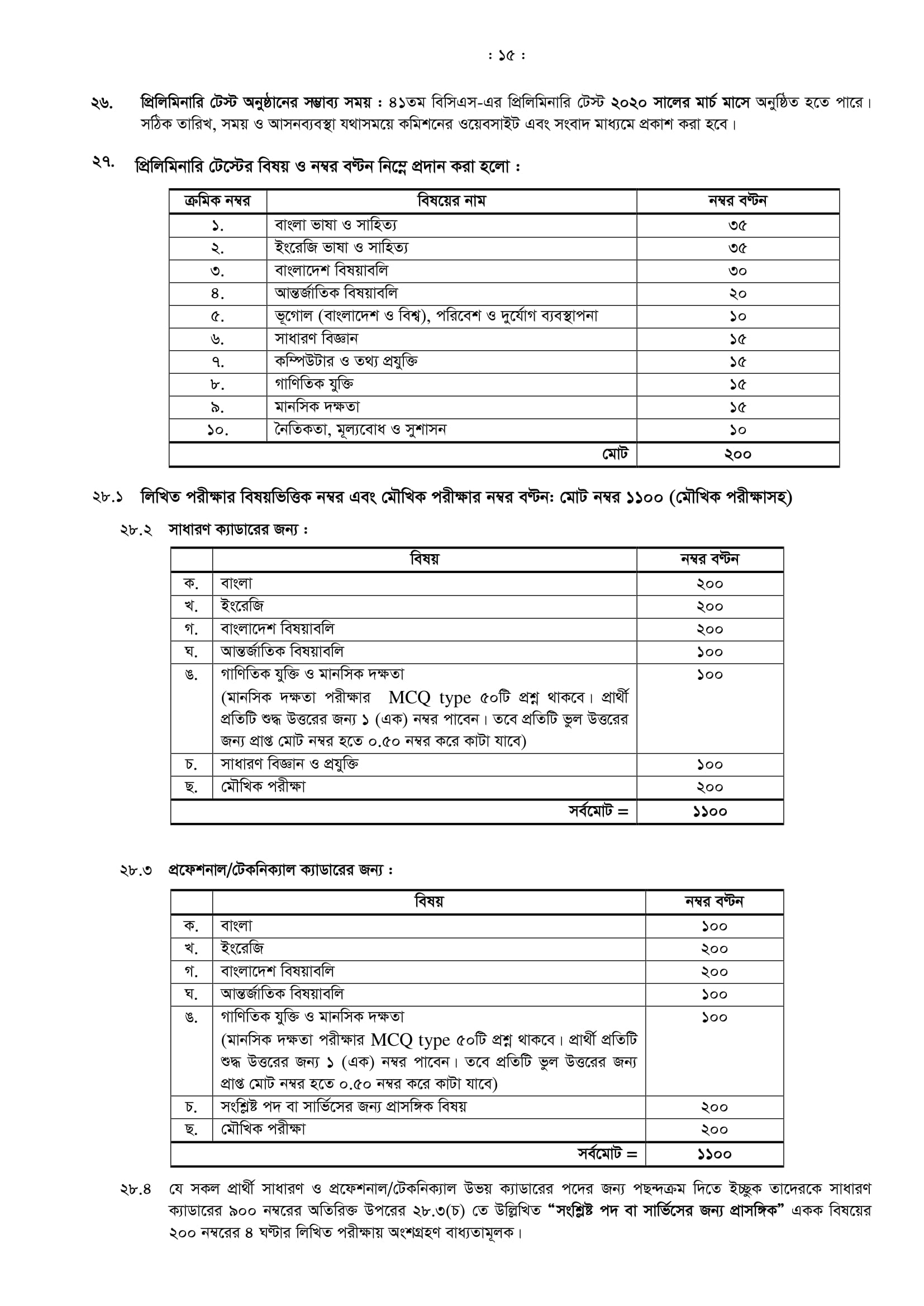 43rd BCS All the Vacant Posts
43rd BCS is most important for all the qualified students so today I will describe detailed information gradually. At first, I want to inform you that the 43rd BCS is a general batch but the 42nd is a special batch. Here I will share with you how many cadres are recruited in different posts. A total of 1,814 employees will be required in this (43rd BCS) BCS. Loo below to get a shortcut conception. There are two types of cadres in the Bangladesh Civil Service: General Cadres and Professional/Technical Cadres.
BCS Cader Name

Vacant Post 

General cadres 
BCS Administration
300
BCS Foreign Affairs
25
BCS Police
100
BCS (Audit & Accounts)
35
BCS (Taxation)
19
BCS (Customs & Excise)
14
BCS (Co-operative)
19
BCS (Railway Transportation & Commercial)
03
BCS (Information)
22(code 121)
BCS (Postal)
03
BCS (Family Planning)
054
BCS (Food)
03(code 111)
Total = 550
BCS Staistic
05
Professional cadres(Railway: Engineering)
07(code 353)+03(Code 351)+01(Code354)+01(code352)
BCS(Roads & Highways)
03
BCS Information
43
BCS (Public Health Engineering)
50
BCS (Fisheries)
51
BCS (Livestock)
31(code 270)+6(code 281)
BCS (Agriculture)
05(code 227)+10 (Code226)
BCS(Health)
75
BCS(Food)
04(code360)
BCS (Public Works)
14
BCS Co-operative
01(code 511)
Total=310
General Education For General Colege
Total= 834
For Govt.Teacher Training College
Total=12
BCS (Technical Education)
Total=99
ALL TOTAL= 1,814
For more details, I have collected all the images published by BPSC. focus on below. 
To see how many people will be recruited in which cadre in 43rd BCS just click here. 
43rd BCS Exam Circular PDF
Do you want to get the 43rd BCS exam circular PDF? don't worry. Sometimes the images become low quality after downloading them. So If you want to print out the 43rd BCS exam circular easily then follow the link in the following. This is the authentic PDF of the 43rd BCS exam circular that has been uploaded officially by BPSC. The link will drive you into their official link.
Download 43rd BCS Exam Circular PDF 
43rd Circular at a glance:
| | |
| --- | --- |
| Circular Published | 30 November 2020 |
| Application Starts | 30 December 2020 |
| Application Ends  | 31 March(Revised) 2021 |
| Total  Posts | 1,814 |
| Application Fee | 700 Taka |
| Application Type | Online Application |
| Recruitment Test |  Preliminary(MCQ), Written, Viva |
| Educational Qualifications | 4 Years Graduation |
Important Notice For 43rd BCS Exam Circular
You have to stay updated all the time by visiting the government website for all kind of notice that is related to 43rd BCS. We are giving the link in the following so you don't miss any important notice. You can get all the information and notices there.
43rd BCS Application Revised
Submission 

date

Hello friends, today I am here with new updated information for you and that is BPSC has already changed their 43rd BCS Application submission date on their own website. I have collected the notice and has updated it on to the site. At first, BPSC published the 43rd BCS Application date on 31 January 2021 but now the date change to 31 March 2021. As a result, the candidates got more than two months to submit their applications online. If you want to get the revised notice, just focus on the following image carefully. I hope you will be cleared.
Here I have attested a PDF of the circular. 43rd BCS Revised date of submission of application
That's all about the 43rd BCS exam. All the information in this article is from dependable sources. I hope this article will help you in many ways. Just read the article from top to bottom. To get more information about 43rd BCS, stay with us sticky. For any information on any circular inform us or visit our webpages. If you have any objection please inform us as soon as possible. I wish you success. Have a nice day.