Are you waiting for the Bangladesh Air Force job circular? No need to wait anymore. The circular has already been published. You have come to the right place to know your desired job circular. This blog will tell you how you can apply to the Bangladesh Air Force as an Air Force official. You know it is very demanding in Bangladesh. Most of the applicants want to join the Bangladesh air force for its smarter career growth. So read this full article and apply for these posts.
Information Abanout Bgladesh Air Force Job Circular
Bangladesh air force's short name is BAF. It's a tidy force. Bangladesh air force giving air support to the Bangladesh Army. Bangladesh air force has a territorial role in giving strategic air transport and logistics. Bangladesh air force has participated in major operations like operati0n desert storm, gulf war, Chittagong hill tracks operations. The Bangladesh air force was established in 1971 with 300 personnel from the Pakistan air force. Recently, the Bangladesh Air Force has been published a job circular on its official website. I have written about Bangladesh Air Force's Job circular 2020. See this full post.
Important Date & Issues
If you want to apply to the Bangladesh Air Force, you need to remember some important and issues, which are given below.
| | |
| --- | --- |
| Issues | Dates & Facts |
| Application Start | 30-07-2020 |
| Application End | 20-08-2020 |
| Job Location | Anywhere in Bangladesh |
Qualifications for Application
You must know that Bangladesh Airforce is a high demandable job. You have to need some qualifications to apply for Bangladesh Air Force's posts. At first, you should know the educational qualification that they need for a certain post. It would be best if you had a certain qualification for a certain job. See look over these qualifications carefully from below.
You have to need educational qualifications like have to need science group in SSC and HSC
You have to need some special qualifications which are given below
And must have physical qualification
Other Qualifications
You have to possess some other qualifications like nationality, marital condition, age, height, weight, eyes, etc. For selection, you must pass these above qualifications. You have to possess physical fitness. It is the main qualification for the Bangladesh Air Force job. To get detailed information, keep your eye below.
How to Apply to Bangladesh Air Force Online
Here I will share with you details about the application process online on the job. Firstly you have to visit https://joinairforce.baf.mil.bd/ and then follow the following steps.
You have to click "Apply Now."
Then fill up the online form.
After Submitting the online form. you will get the user id and password
Then you have to pay 1000 Tk.
See this image to know more.
How to Submit Application
You must know the process of applying. After completing the application, the candidate must present at a certain exam center with some important documents. To get the whole process focus on the following image published by the Bangladesh Air Force authority.
Examination Centers & Time Schedule
Keep remembering these centers & time table to appear in the examination. See these below.
There are some Post-admission benefits as Officer Cadet. If you want to know all the facilities then focus on your
Bangladesh Air Force Job Notice
I have uploaded for you an image of Bangladesh air force job circular 2020. See carefully from below
Now you can download this job circular as a pdf file on this website. Download it from below.
Click here to download the PDF file. 
Bangladesh Air Force Rank and Salary
Here, I am going to write about the Bangladesh Air Force rank and salary. See the Bangladesh Air Force – Rank and Rank Insignia here in the below table.
(NB: I didn't find clear information about BAF salary. If you know something, share it with us, please. We will update the information.)
| | | |
| --- | --- | --- |
| The Rank of the Air Force | Rank Insignia | Salary |
| Marshal of the Air Force | | |
| Air Chief Marshal | | |
| Air Marshal | | |
| Air Vice-Marshal | | |
| Air Commodore | | |
| Group Captain | | |
| Wing Commander | | |
| Squadron Leader | | |
| Flight Lieutenant | | |
| Flying Officer | | |
| Pilot Officer | | |
| Master Warrant Officer | | |
| Senior Warrant Officer | | |
| Warrant Officer | | |
| Sergeant | | |
| Corporal | | |
| Leading Aircraftman | | |
| Aircraftman | | |
Pay & Allowances of BAF
For your convenience, I have also uploaded Bangladesh Air Force's facilities, pay, and allowances. See it below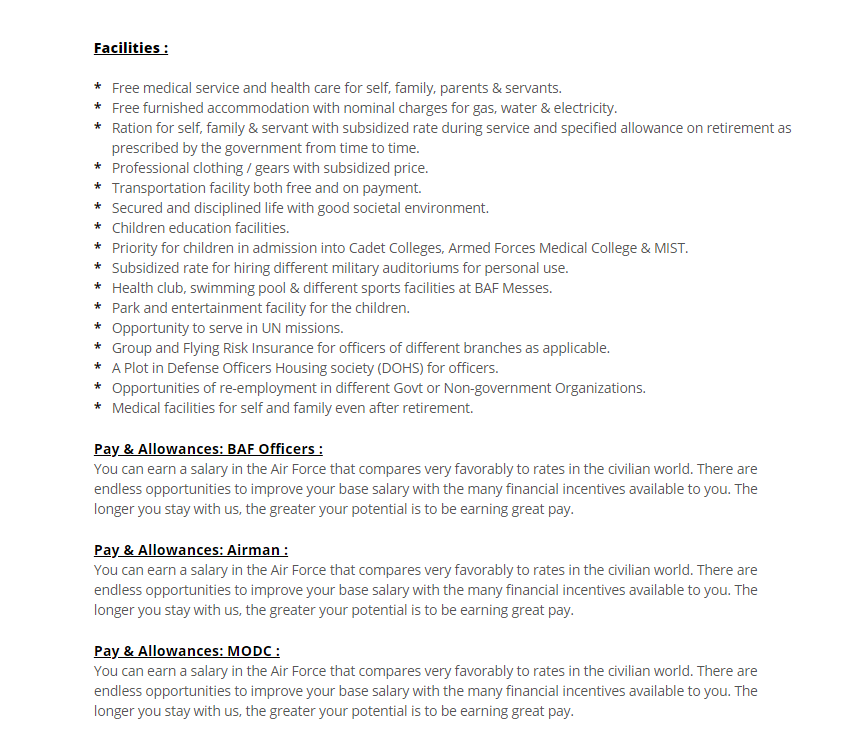 To know more information about the job sector and the educational sector, visit our website regularly and follow our blogs. Thank you for visiting our website.