Are you a graduate student? I think you are waiting for the master's preliminary admission to the National University. Today, I will tell you the details process of national university masters admission 2020. Every year, many graduates admit to this master's program at a national university. It is divided into two parts. preliminary masters and final year masters. Read this full article to know more about Masters admission 2020.
NU Masters Preliminary Admission 2020
National University has been published Masters preliminary admission circular 2020 on its official website. Now graduate students can apply for this master's program. Here, I have written detailed information about masters admission 2020 of the national university. See the full post and apply for the masters preliminary program. We Believe that our distributing News and information will help the activity searchers who are finding Educations Related News Through Online.
Masters Admission Important Dates
Remember these important dates and issues for applying to the masters preliminary admission 2020. Application Fees 300 Taka will be paid to the college.
| | |
| --- | --- |
| Issues | Dates |
| Circular published | 23-02-2020 |
| Application start | 25-02-20 |
| Application end | 08-03-2020 |
| Submit a printed copy of the application | 26 February to 09 March 2020 (to the college you applied for) |
National University Masters Admission Requirements
There are some restrictions and requirements to apply for masters program at national university. You should check these steps to check either you eligible for applying or not. Here are the detailed requirements for nu masters program admission.
Those who passed Degree(Pass) course of 3 years from 2014 to 2018  with 45% marks or CGPA 2.25 at least and get 40% marks or CGPA 2.00 in the corresponding subject to get admitted.
Those who completed the Honours course for 4 years duration are considered as ineligible for applying for preliminary masters admission program under the national university.
If candidates get admission in masters program anywhere under national university he/she also cant apply for getting admission under this master's admission circular.
Application Procedure for Masters admission 2020
1st Step: Candidates have to apply online on the University website at www.nu.edu.bd/admissions. After complete, the application form candidates have to print an application copy within the application period.
2nd Step: Candidates have to signature in a fixed position in printed application copy. You have to pay 300 Taka for associated colleges' application form
3rd Step: National University Masters 1st Year Admission 2020 primary application forms will be confirmed by associated colleges' within  10 March 2020.
Online Apply System of Masters Admission 2020
First, go to National University Official Site NU Admission  website Click here to apply
Then Click Admission Apply Now button.
Then Click Apply Now Masters. Input your SSC Roll Number, Board, Passing Year and Also Your HSC Roll, Board and Passing Year. Click Sign in.
Then Select Your Only One College and Select your Course (One or More),
Then Upload your photo (Photo Size 120 x 150 pixel) and input Your Phone Number.
After Completion, Then click the View Menu and Check it again.
If you don't find any Mistake Submit Your Application and Print it in A4 Size Paper.
National University Preliminary Masters Admission  Notice 2020
The previous year, the National University Masters admission circular 2019 was published in time. But this year for coronavirus, everything got stuck. National University master's admission circular notice has been announced on its admission application website finally. I have provided it here. See it carefully.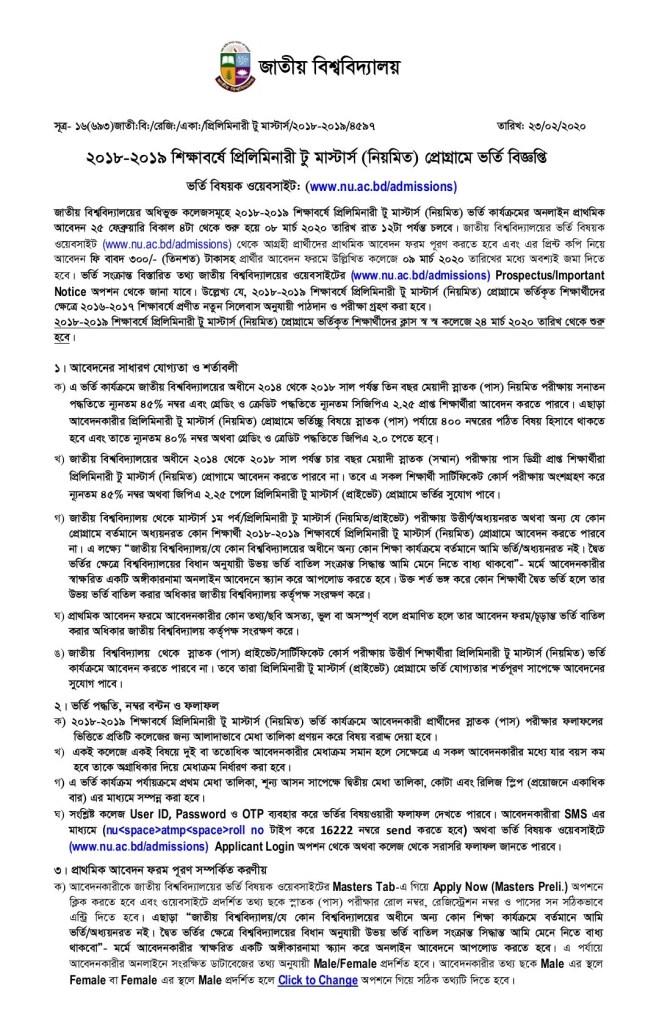 National University Preliminary Masters Admission  Notice PDF file
For your help, I have also uploaded a pdf file of Masters admission notice 2020 as a pdf. Download it from here.
Click here to download circular
National Masters Admission Release Slip Application
The National University Authority Will Announce Masters Admission Release Slip Notice, After all merit list Admission Complete. After Publishing Release Slip Notice, Candidates have to Fill Up the Application Form and Wait For Release Slip Result.
Who Can Apply For Release Slip
Students who Apply For Admission Form but did not get a chance in Any merit list
Candidates who canceled the admission
students who get a chance in a merit position but didn't get admission.
Stay active and updated with us. So keep eye on our website regularly. Share this post with your social media account. Thank you for visiting our website.