It's good news for the National University's Degree 3rd-year student because the National University authority recently published a degree 2nd-year result on their website. If you read this full article, you will able to know the Degree 3rd-year result. So, read this full article to know it.
NU Degree 3rd-Year Result 2021
After finishing the examination, students wait for the result. After three months of examination, the national university authority released the degree 3rd-year result. NU authority has published a degree 3rd-year result on its official website. We have just collected the result and share it here with you.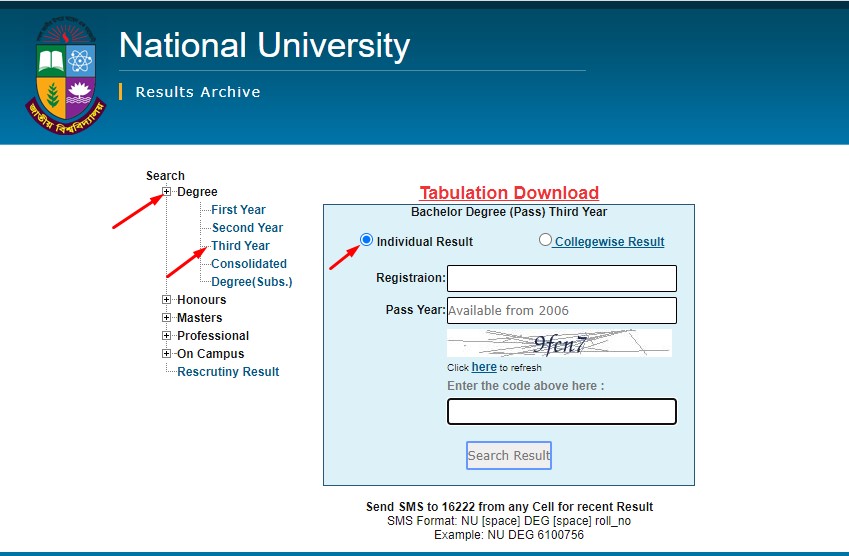 Degree 3rd Year Result Check By Online
You can check your degree 2nd-year result online and also SMS. The online result checking system is straightforward nowadays. You need to be connected to the internet. Then you have to follow the below steps.
Go to www.nu.ac.bd/results
Select the 'Degree' option
Then click 3rd year
You will see ' Individual result.'
Click Individual results.
Write your 'Registration or Roll Number'.
Then Input the Code given there.
Then click 'Search Result.
NU Degree 3rd Year Result Through SMS
If you want to get your Degree 3rd-year exam result through SMS by your mobile phone, you have to type a message and need to send it to 16222 number. Then in the return SMS, you will get your result. The SMS format is given here below:
Type NU<space>DEG<space>Roll and send it to 16222
Example: NU DEG 6100768
Now send this SMS to 16222.
This process is very simple. But yet, if you can't get your result, write down your Registration No. and passing year in the comment box. We will show you your result. Thank you.