NU Honors Professional Admission 2021 is going on. National University takes the honors level admission in two ways. One is regular standard courses admission and the other is the professional course's admission. Both programs are popular with the students. Today, I will tell the Honours professional program's admission. So read this article carefully and apply for this program if you are interested in this program.
NU Honors Professional Admission Circular
National University has been published the Honours Professional admission circular 2021 on its official website. For your convenience, I have uploaded this program's admission circular 2021. Don't neglect this post, See this full post and apply for the honors professional program. To get more information, visit National University
Important Dates for Honors Professional Admission
| | |
| --- | --- |
| Issues | Dates |
| Application Start | 12 September 2021 |
| Application End | 28 September 2021 |
To get more information focus on the following image.
Honors Professional Admission Requirements
There are some restrictions and requirements to apply for the master's program at National University. See it below
How to Apply for the Honors Professional Admission
Application for under Graduation Professional courses at National University for session 2020-21 is very simple. Students can complete the application form taking guidelines from the following image.
National University Honors Professional Admission Circular Notice
National University honors professional admission circular notice has been announced on its admission application website finally. I have provided it here. See it carefully.
If you want to download this admission circular as a pdf file. You can download it from our website.
Course Wise Fees of Honors Professional Admission
Here, you will know the course-wise fees of honors professional admission 2021. See this carefully.
Honors (Under Graduation) Professional Courses
Here I have provided the honors professional courses under the national university. Have a look below.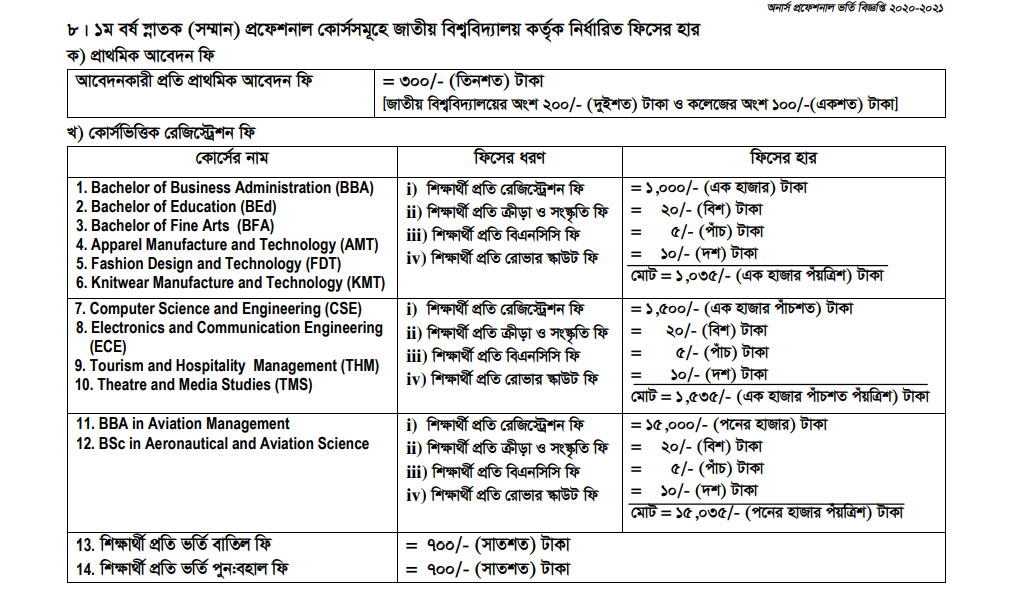 Bachelor of Business Administration (BBA)
Bachelor of Education (BEd)
Bachelor of Law (LLB)
Apparel Manufacture and Technology (AMT)
Fashion Design and Technology (FDT)
Knitwear Manufacture and Technology (KMT)
Computer Science and Engineering (CSE)
Electronics and Communication Engineering (ECE)
Bachelor of Fine Arts (BFA)
Tourism and Hospitality Management (THM)
Theatre and Media Studies (TMS)
BBA in Aviation Management
BSc in Aeronautical and Aviation Science
Masters Professional Courses Admission
I have also provided the master's professional courses that are available at the national university.
Bachelor of Madrasah Education (BMEd)
Bachelor of Special Education (BSEd)
Bachelor of Physical Education (BPEd)
Bachelor of Law (LLB), Part-2\
M.Sc in Computer Science and Engineering
Masters of Education (MEd)
Master of Special Education (MSEd)
Masters of Physical Education (MPEd)
If you have any questions about us, let us know by your comment in the comment box. We will respond as soon as possible.