Are you looking for a National University MPhil or National University Ph.D. course admission circular of the 2020-21 session? So you already in the right place. Because here in this article, I am going to share the official admission circular for National University MPhil and Ph.D. Program. You can get all the information from our website. Because we have collected the official notice from the National University Official Website. So read this full article to know more about the M.Phil & Ph.D. program admission circular of National University.
NU M.Phil And Ph.D Admission Circular 2020
National University has been announced M.Phil and Ph.D. Fellowship admission circular for the year 2020-21. It is very awaiting news for the masters passed students who are interested to admit M.Phil & P.hD program. In this blog post, I have written this M.Phil & P.hD program. See this full article to apply for these programs.
Application for following subject for M.Phil Program
National University called for the following subjects for the M.Phil program 2020-21
Arts: Bangla, English, Islamic Studies, History, Arabic, etc.
Social Science: Sociology, Economics, Home Economics, etc.
Natural Science: Physics, Chemistry & Statistics.
Life & Earth Science: Biology, Botany, Psychology, etc.
Educational Qualification for M.Phil Admission
Students have some qualifications applying for M.Phil Program
Minimum 2nd class in all exams with Honours & Masters in the respective subjects. 50% of Marks should be in Honours & Masters degree.
Applicants only get a chance in M.Phil Program Masters related subjects.
More than one research paper has to submit the application.
Teachers under National University will get priority.
Eligibility of Ph.D. Program
For P.hD admission students also have qualifications. See it below.
M.Phil Students who will get 60% marks on the Theory & Practical Exam in 1st Year and a Minimum of one research paper published in a reputed journal, will get admission to Ph.D program.
Important Dates & Issues
You have to remember some important dates and issues to apply for this program. M.Phil is a two years program. Students will get Tk. 5,000/= per month for Fellowship. PhD students will get Tk. 7,000/= per month.
| | |
| --- | --- |
| Issues | Dates |
| M.Phil/PhD Admission Application open | 10/8/2020 |
| M.Phil/PhD Admission Application last date | 12/9/2020 |
| Admission Test/VIVA Date | 29/9/2020 to 1/10/2020 |
| M.Phil/PhD Admission Result | 8/10/2020 |
| Admission date | 12/10/2020 to 19/10/2020 |
How to Apply the NU M.Phil & PhD Program
For applying for these programs, you have to go to http://app1.nu.edu.bd/ and fill up the online form. then submit.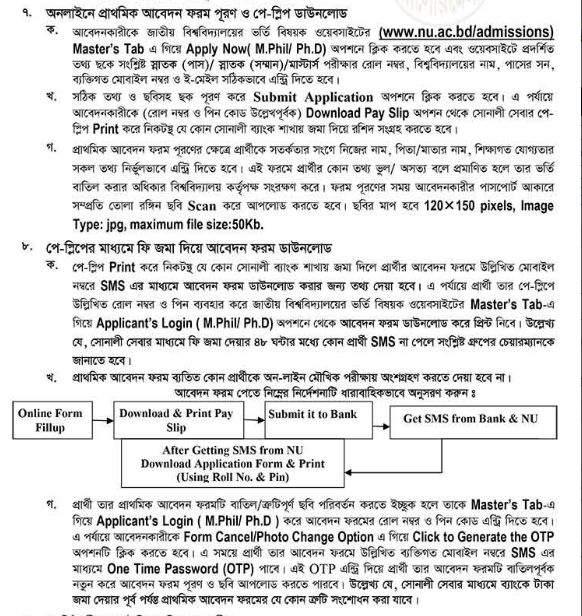 NU M.Phil and PhD Admission Circular Notice Image 2020
For your clear understanding, I have uploaded M.Phil & PhD admission circular 2020. Have a look below.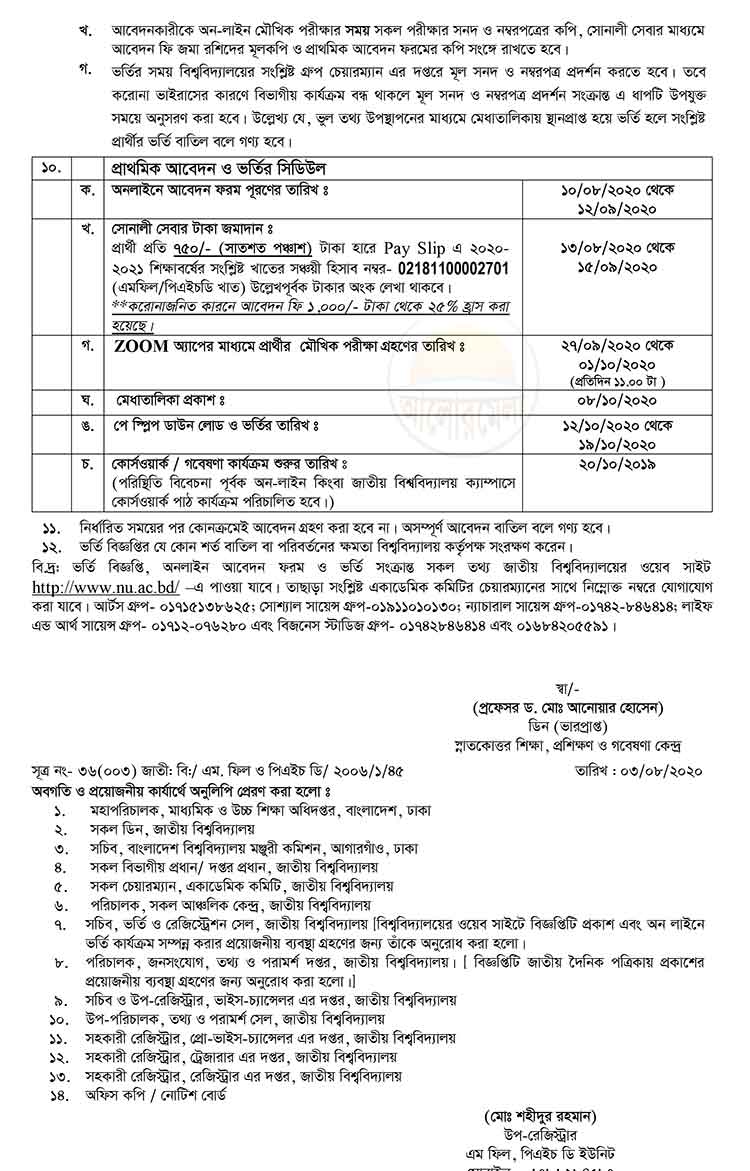 NU M.Phil and PhD Admission Circular Notice 2020 PDF File
For your convenience, I have also uploaded a pdf file of M.Phil and P.hD program's admission circular of the national university. Download it
If you face any problem to apply for these programs, let us know by your comment in the box. We will respond to you as soon as possible. Thank you for visiting this website.