Are you looking for the Bangladesh Navy job circular? This post is only for you. Because Bangladesh Naval Authority has released some job circulars. It is the most valuable job in Bangladesh. It has great value to the government. Moreover, it has smart career growth. Today, I will describe this Bangladesh Navy jobs circular which was published a few days ago. Don't Neglect this post, see this full post and apply to these post in Bangladesh Navy.
Bangladesh Navy Job Circular Information 2021
Bangladesh Navy is the naval warfare branch of Bangladesh Armed Forces, responsible for Bangladesh's 118,813 square kilometers of maritime territorial area, and the defense of important harbors, military bases, and economic zones. Recently, the Bangladesh Naval Authority has been published a job circular on its official website. In this post, I have written and given instructions on how you can apply for the following programs. Read this full article and apply for these programs.
Important Dates & Issues
Keep remembering these important dates and issues. It will be needed to apply to the following posts.
| | |
| --- | --- |
| Issues | Dates & Facts |
| Application Start | 28-01-2021 |
| Application End | 22/02/2021 |
| Job Type | Governments Jobs |
| Job Locations | Anywhere in Bangladesh |
Requirements for Apply in Bangladesh Navy
For applying to the Bangladesh Navy's posts, you have to need some physical and educational qualifications. Without it, you will not able to apply. See these below from the image.
How to Apply the Bangladesh Navy
Firstly you have to visit https://www.joinnavy.mil.bd/ and then follow the following steps:
You have to click "Apply Now"
Then fill up the online form
After Submitting the online form. you will get the user id and password
Then you have to pay 700tk through any mobile banking t-cash,u-cash, etc.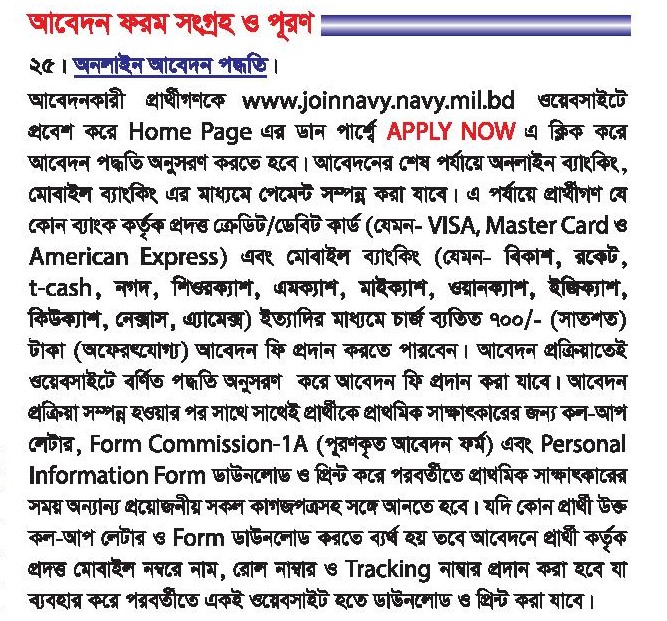 Bangladesh Navy Job Circular PDF
Now you can download Bangladesh Navy's job circular 2020 as a pdf file. I have uploaded it only for you. Download it from below.
Important Facts
If you face any problem to apply this post. You can contact with Bangladesh Naval Authority. See the contact information below.
Don't forget to share this post on your social media account. Stay connected to know more information about jobs and the educational sector.
Sailor & MODC (Navy) Admission Circular 2021 Batch
Pdf of Sailor & MODC (Navy) Admission Circular 2021 Batch
Bangladesh Navy Rank & Salary
Bangladesh Navy's job is one of the demanding and smart job sectors in Bangladesh.  Bangladesh Navy has a smart salary system and rank insignia. Here I have provided Bangladesh Navy's Rank insignia and salary range.
The Rank of the Navy
Rank Insignia
Salary
Admiral of the Fleet
Admiral
86,000.00
Vice Admiral
82,000.00
Rear Admiral
78,000.00
Commodore
63,570.00
Captain
61,000.00
Commander
50,000.00
Lieutenant Commander
43,000.00
Lieutenant
29,000.00
Sub Lieutenant /
Acting Sub Lieutenant
25,000.00/23,100.00
Midshipman
10,500.00
Master Chief Petty Officer
Chief Petty Officer
Petty Officer
Leading Seaman
Allowances After Salay
Kit up keep Allowance
Batman Allowance
Diving Allowance
Dip Money Allowance
Survey Allowance
House Rent Allowance
Outfit Allowance
Disturbance Allowance
Instruction Allowance
Ration Allowance
Command / Charge allowance
I think you have already known much information about Bangladesh Navy Jobs. If you like this, share it on your social media account. Thank you for visiting this site.